fischertechnik replaces the plastic with Paptic® in the packaging of its bio-based construction set "Animal Friends"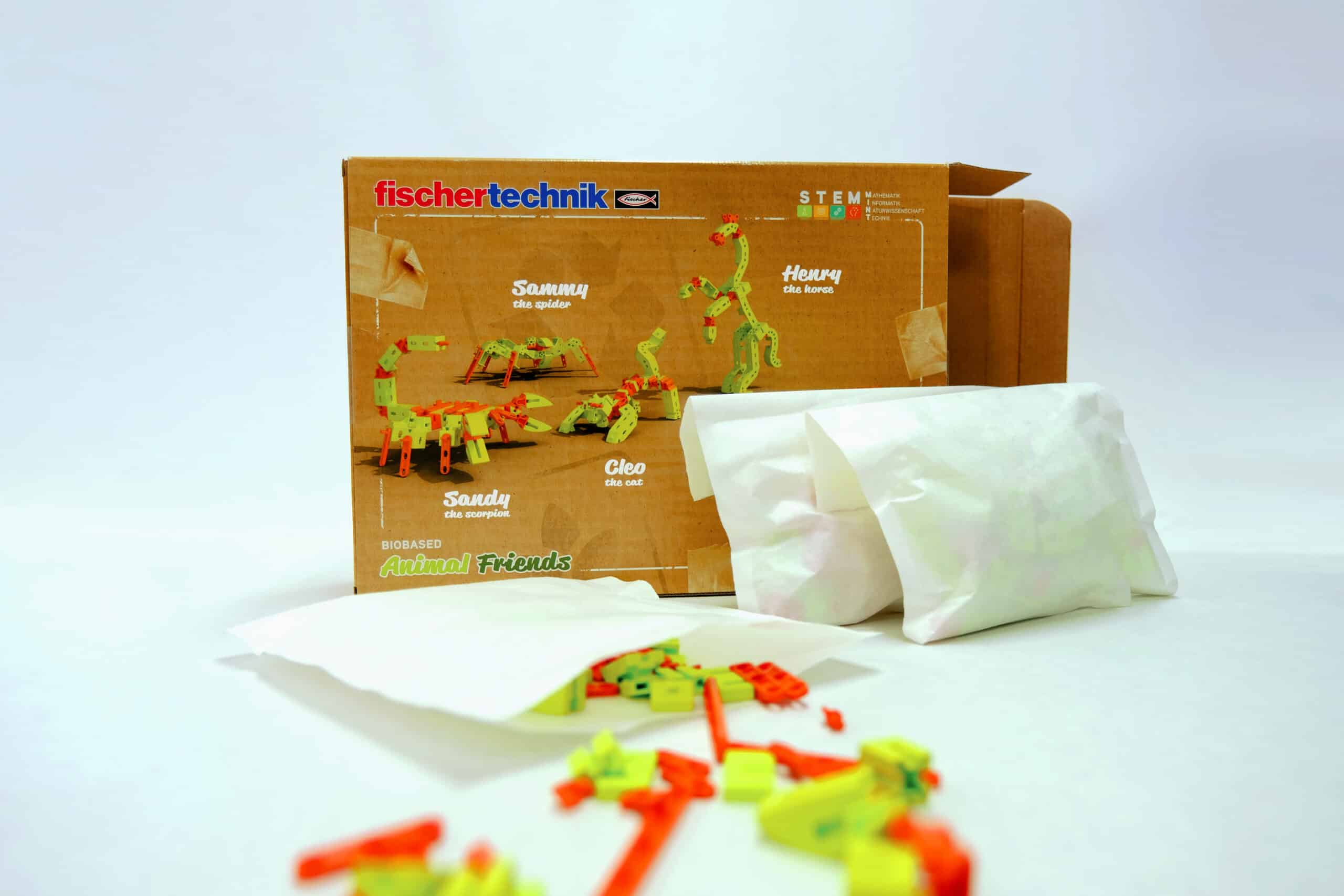 Today's consumers are requesting more responsible material choices from companies, also in packaging. To respond to the demand, fischertechnik, one of the sustainability forerunners in the toy industry, has replaced single-use plastic in pouches of its bio-based construction set with wood fibre-based Paptic® material. The box of the set is made of cardboard. Now it is easy for the consumer to recycle the entire packaging in one stream as Paptic® is to be recycled with cardboard and packaging paper.
FISCHERTECHNIK'S SUSTAINABLE PACKAGING MATERIAL CHOICES EASE CONSUMERS' RESPONSIBLE ACTIONS AND MINIMIZE WASTE
"We are delighted to offer our customers a sustainably complete package, from the product itself to the packaging," says Ms. Jasmin Reich, Product Manager, fischertechnik.
"The importance of sustainability is continuously growing. At fischertechnik, we want to live up to our responsibility targets and secure nature for future generations. One concrete action is to look for more sustainable packaging solutions for our products and applications," summarizes Jasmin Reich. Currently, most packaging applications of the company are made of recycled or recyclable materials, and Paptic® materials perfectly fulfill the sustainability standards that the company has set.
"We are proud that fischertechnik chose our material for this packaging application, and I want to thank Jasmin and her team for the successful co-operation. From the beginning, it was clear that we shared a common goal to find a sustainable solution to replace the single-use plastics in the packaging of the bio-based construction set. Now the entire package is easy to dispose for consumers," says Mr. Uwe Schulz, Business Development and Sales, Paptic Ltd. "We combine sustainability and functionality in our materials. For example, in this case, puncture resistance of the material was tested. The Paptic® materials are available as FSC® certified."
The project was completed in a few months. The bio-based construction set "Animal Friends" packed in Paptic® is now available in stores. Der Baukasten für nachhaltiges Spielen (fischertechnik.de)
For more information, please contact:
Ms. Jasmin Reich, Product Manager, fischertechnik
Tel. +49 7443 12 4864
Email
Mr. Uwe Schulz, Business Development and Sales (DACH), Paptic Ltd 
Tel. +49 1516 460 2256 
Email
Paptic Ltd is a high-growth company established in 2015 with headquarters in Espoo, Finland. The company has developed Paptic®, a fibre-based and recyclable material to replace plastics in packaging. The material has been available on an industrial scale since 2018. Today Paptic is a company with close to 30 professionals, and Paptic® materials are delivered to over 40 countries. www.paptic.com