Meet our new team members!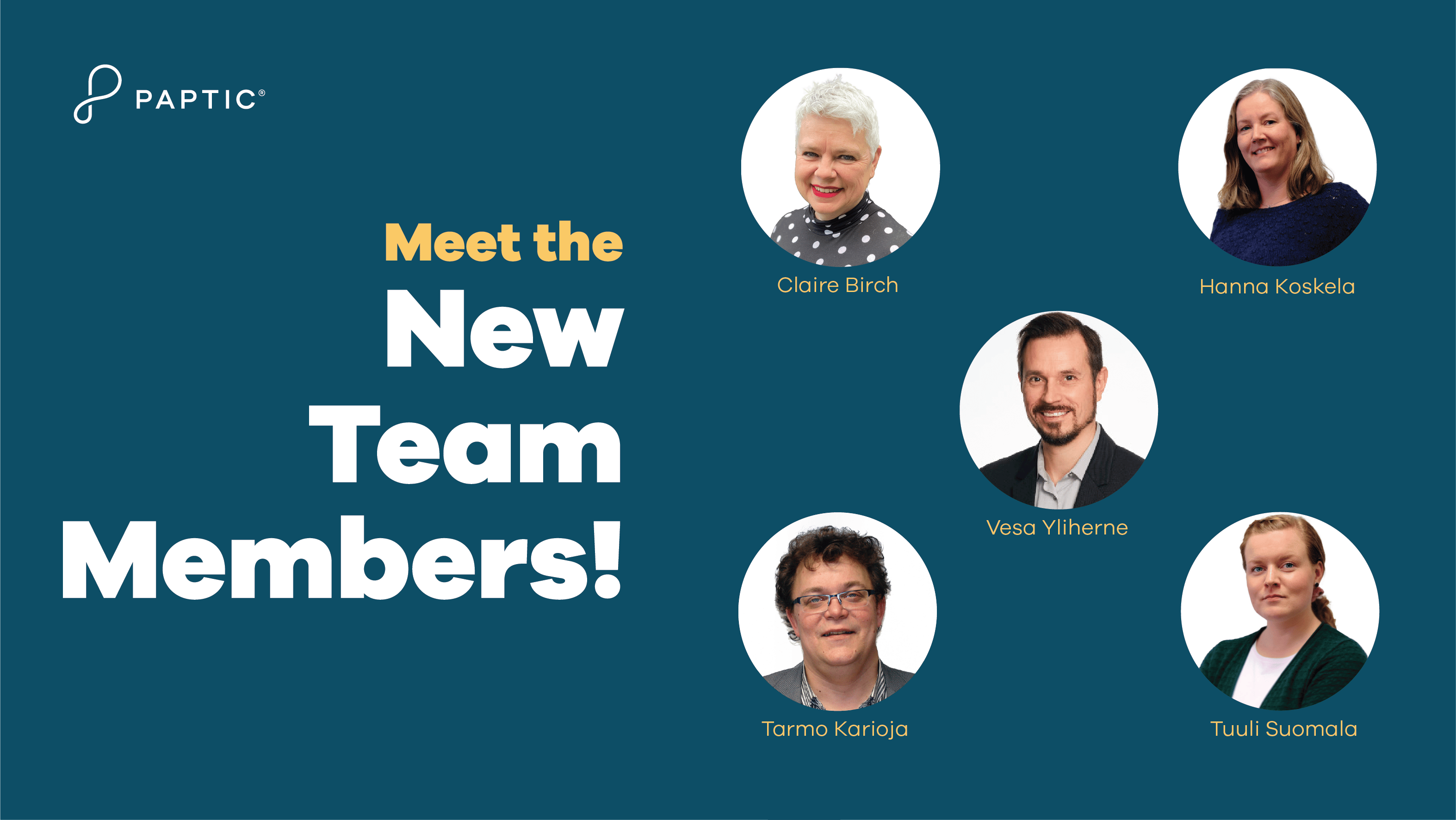 Vesa Yliherne, Chief Operating Officer
Mr. Vesa Yliherne, M.Sc. in Chemical Technology, started in our team as Chief Operating Officer on November 14, 2022.
Vesa's solid experience of more than 20 years in the packaging and specialty papers world strengthens our team's expertise in several key focus areas. During his working years, Vesa has led the global tape business at Ahlstrom-Munksjo and acted as the General Manager of the China JV company. He also has gained experience from various manufacturing, capital investment, and technology development roles in the leading paper converting and pressure-sensitive adhesives manufacturing companies, UPM Raflatac and Avery Dennison, in Finland, the USA, China, and Luxemburg.
TUULI SUOMALA, Sales & Supply Chain Specialist
Ms. Tuuli Suomala, M.Sc. in Forest Economics and Marketing, joined Paptic in September as she started to work as a Sales & Supply Chain Specialist in our Sales Office. During her working years, she has worked in versatile tasks related to the forest industry, in paper and packaging as well as timber and wood products. During the past few years, I've worked with international B2B customers in supply chain and order to cash-related positions.
The possibility to work every day for a more sustainable future motivated me to join Paptic. We have a wonderful team with whom it is a pleasure to work with. I am grateful to be part of this story and excited to see where it will take us!
Nature and the outdoors are places for me to relax. Additionally, good books and horseback riding trips and lessons have been close to my heart since childhood.
Hanna Koskela, Product Development Engineer
Ms. Hanna Koskela, M.Sc. in Technology, started in our team as a Product Development Engineer in September 2022.
"I have a long experience with different paper, paperboard, and packaging-related topics. During my working career, I have been involved both in research and product development and gained vast experience in managing various projects.
I look forward to using in practice the knowledge and experience that I have. I find Paptic's vision very motivating since environmental issues have always been important to me. This is a great opportunity to take part in the development process and to find new applications for Paptic® materials.
In my free time, I read a lot, and I am also keen on doing different handicrafts, like knitting. A common hobby for our whole family is swimming. We have an old sailing boat, and we spend our summer holidays in the Finnish archipelago. However, she keeps us busy the whole year round since there is always something to fix."
CLAIRE BIRCH, UK and Ireland Business Development
Ms. Claire Birch joined Paptic in September 202. She has a very extensive experience from the world of retail packaging as she has been working in the field for over 30 years. Claire has joined the Sales team to focus on business development in the UK and Ireland.
"I am genuinely thrilled to join an innovative, informed company and excited to start a new phase of my career. I am looking forward to introducing Paptic to a wide range of markets where we can support a move to better, more responsible packaging, and of course, I am learning lots of new things along the way from a great team"
"Outside of work I spend time with my family and friends and try to do different things that challenge me. I have a tiny club/bar at home for letting off steam with terrible singing and dancing!"
Tarmo Karioja, Process Development Manager
Mr. Tarmo Karioja, Bachelor of Process Technologies joined the Paptic Team as Process Development Manager on the 1st of September 2022. He will be a part of the Innovation Team.
Tarmo has respectful over 34 years of working experience in the pulp and paper industries globally. His expertise is in stock preparation and PM approach systems, engineering, commissioning, and project management roles.
I decided to join Paptic as I felt that it was a time to face new challenges and get involved in developing a groundbreaking new product and the process development
I dedicate my free time to my wife, kids, and grandkids. We do renovation, maintenance, and gardening, and enjoy playing different funny games together. I also like to travel to different foreign destinations to experience cultures and sights. Playing music is also close to my heart.