A recyclable vegetable pouch made of Paptic® wins a Worldstar award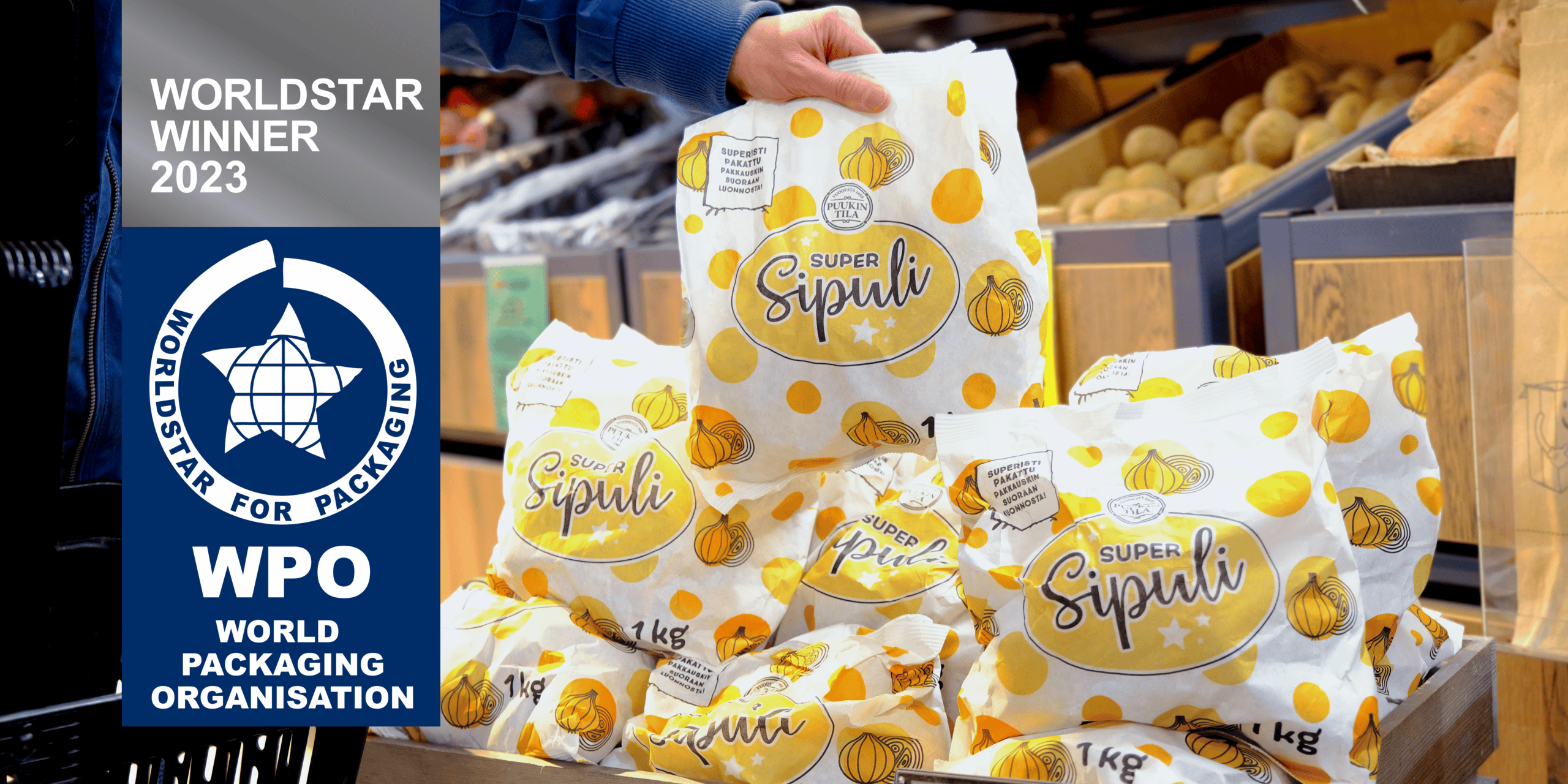 A recyclable pouch made of Paptic® to replace plastic in vegetable packaging is a WorldStar award winner. The winning wood-fiber-based packaging solution was invented when Paptic Ltd and Marvaco Ltd joined forces to respond to a call from Puukin Tila, a Finnish farm, to replace plastic in onion packaging.  Paptic®, a renewable material, and Marvaco Expanded Gamut Printing with Flint Group C2C Material Health certified inks made the new, truly sustainable vegetable packaging possible. In the optimized packaging, all sustainability aspects were considered, including the substrate, design, printing, and inks.
"Our mission is to provide a recyclable and renewable alternative to plastic films in packaging, and we are constantly developing new solutions with sustainably focused companies. We are delighted of the fruitful co-operation with Puukin tila, Marvaco and Flint Group in this project and that we were awarded with a WorldStar award", says Katja Jokiaho, Chief Sales Officer, Paptic Ltd.
THE AWARD-WINNING SOLUTION WAS DEVELOPED TO REPLACE PLASTICS IN VEGETABLE PACKAGING WITH A RECYCLABLE, WOOD FIBRE-BASED SOLUTION
Paptic® is a fibre-based substrate to replace plastics in packaging. The lightweight material is soft, with excellent puncture and tear resistance and heat sealability properties. Various products benefit from being packed in breathable materials, like Paptic®.
"We created a simple and sustainable design for onion packaging by reducing ink consumption and the number of colours used in printing", explains Mirva Koskinen, Brand Sales Manager at Marvaco. Only three colours were used, but the colorful design was possible due to the process of printing. With Flint Group's water-based offering, the use of heavy metals was eliminated, and the waste was minimized. The Cradle-to-Cradle Material Health certified inks used are also certified for OK compost. Despite the environmentally wiser choices, the desired colourful design was achieved.
Petri Puukki, the owner of Puukin Tila, is satisfied with the results: "We wanted to make a difference and pack our locally produced onions in a sustainable way. The material selection keeps the onions fresh for longer and the new packaging also looks fresh!"
The project was completed in just a few months.
For more information, please contact:
Katja Jokiaho
Chief Sales Officer, Paptic Ltd
Tel. +358 40 512 3608
Email
About the WorldStar Competition
WorldStar, known as the world's most pre-eminent international award in packaging, is organised annually by the World Packaging Organisation (WPO). This year attracted 488 entries from 41 countries all over the world. WorldStars are presented only to those packages that have already won recognition in a recognised national or regional competition. Paptic won a ScanStar award in the autumn 2022.
About Paptic Ltd
Paptic Ltd is a high-growth company established in 2015 with headquarters in Espoo, Finland. The company has developed Paptic®, a fibre-based and recyclable material to replace plastics in packaging. The material has been available on an industrial scale since 2018. Today Paptic is a company with 35 professionals, and Paptic® materials are delivered to over 50 countries. www.paptic.com