Familon uses Paptic® in its new plastic-free packaging line for pillows and quilts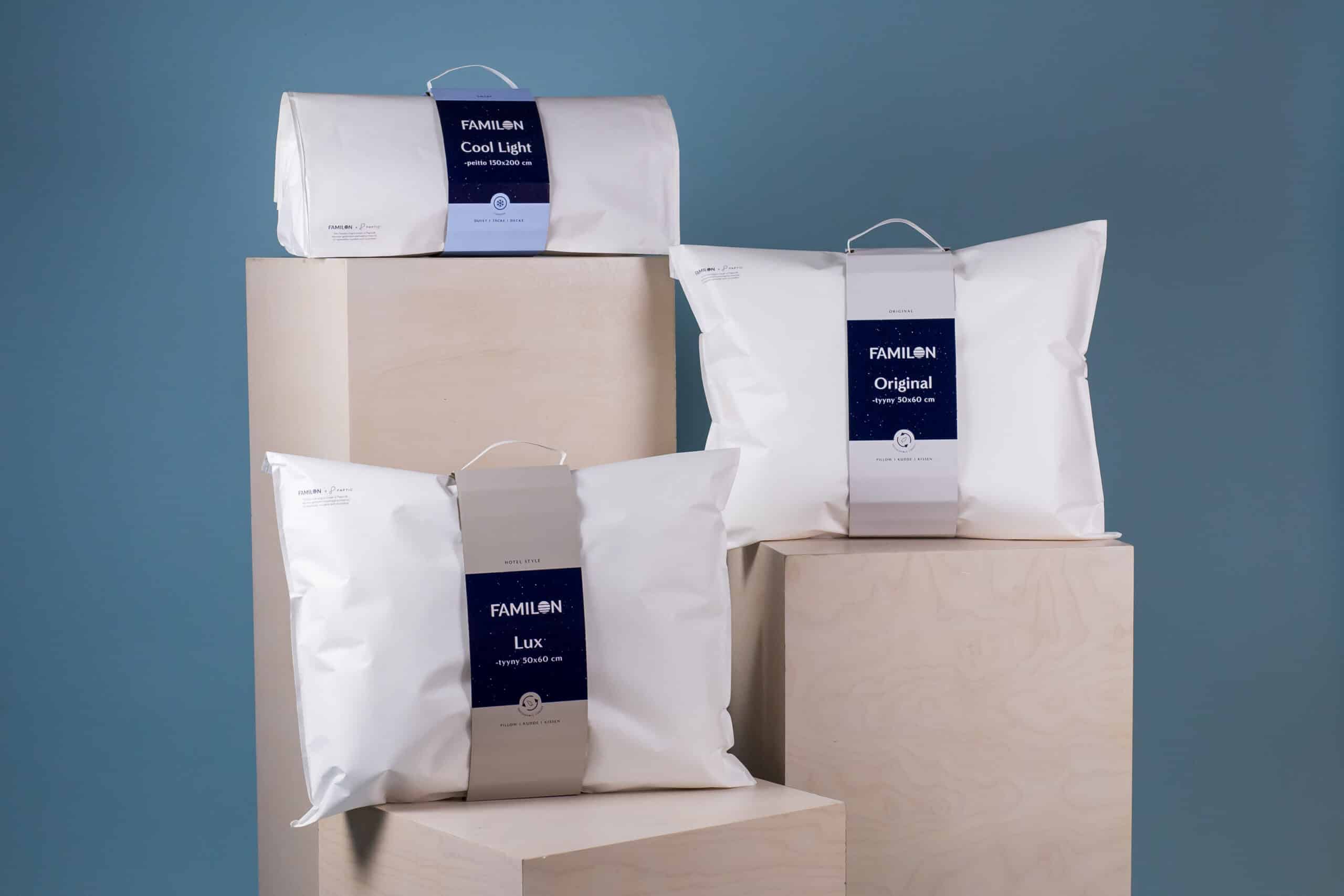 By replacing fossil plastic with sustainable Paptic® in the pillow and quilt packaging, Familon's plastic consumption reduction equals the amount of a million plastic bags a year.
(Espoo, 03 February 2022) Paptic is actively supporting modern, sustainability-driven brands in their work for reducing the use of fossil-based plastic in packaging. Brands are seeking more sustainable packaging material alternatives that are made of renewable raw materials and are recyclable. All Paptic® materials are made of wood based fibres from sustainably managed forests and they are designed to fit to the circular economy.

Familon, a leading Finnish bedding brand, responds to consumer demand for more responsible product packaging by launching a bio-based, easily recyclable package for pillows and quilts. The main raw material of the completely new kind of packaging, which appeared in stores at the beginning of the year, is the Finnish material innovation Paptic®. The closure of the packaging is made of cardboard. 
The packaging was produced by Accent Diffusion's brand WOOPAK® which is dedicated to all sustainable innovative solutions and materials for packing bags. WOOPAK® is specialized on fully custom-made bag productions, available to all home textile industrials or private labels.
"We wanted to meet the needs of consumers by developing a plastic-free, truly easily recyclable packaging. We decided to redesign the whole package and Paptic® material met our sustainability and functionality requirements well. Disposing of old plastic packaging will save one million plastic bags a year," says Olli Liljavirta, CEO of Wendre Finland Oy, responsible for the Familon brand.
"This is an excellent example of a co-operation to find a solution to reduce the use of plastic in packaging. In the new packaging from Familon, the unique properties of wood fibre based Paptic® material comes to the fore. The material's flexibility and strength made this packaging reform possible. In addition, the distinctive touch and feel of Paptic® gave the packaging a high-quality finish", says Mrs. Hanna Kalliomäki, Paptic Ltd's Head of Sustainability and continues:" From the very beginning, we had a common will to find a workable solution with Familon to replace plastic in their packaging. I would like to thank the Familon team for our fruitful cooperation."
The wood fibre based Paptic® materials are reusable and recyclable with cardboard and packaging papers. The materials' main raw material, wood fibre, origins from sustainably managed forests, and the Paptic® materials are available as FSC® certified. The innovative materials are durable and strong, have a unique haptic feature, and repel moisture.
Familon and Paptic encourage consumers to continue using the bag before it is recycled. The pillow bag can be used as a mailer, the larger quilt bag can be used for waste sorting, or as a laundry bag, and it is also a stylish interior element
Paptic Ltd is a high growth company established in 2015 with headquarters in Espoo, Finland. The company has developed Paptic®, a fibre based and recyclable material to replace plastics in packaging. The material has been available on an industrial scale since 2018. Today Paptic is a company with close to 30 professionals and Paptic® materials are delivered to over 30 countries. www.paptic.com 
Finnish bedding brand Familon creates sustainable, high-quality sleep products to ensure good sleep for everyone. We provide everything that makes a good night's sleep complete – our product range includes beds, mattresses, top mattresses, duvets, pillows, bedsheets, and towels. Familon belongs to Wendre Group, one of the largest manufacturers of bedding products in Europe. Familon — Pure Nordic Sleep since 1966. www.familon.com
WOOPAK® is a brand created by Accent Diffusion in 2020, dedicated to all sustainable innovative solutions and materials for packing bags. WOOPAK® is specialized on fully custom-made bag productions, available to all home textile industrials or private labels. We truly believe in our capacity to impact positively and disrupt the actual market by creating tomorrow's packaging. https://woopak.fr/