Verkkokauppa.com chose Paptic® material to reduce plastic in packaging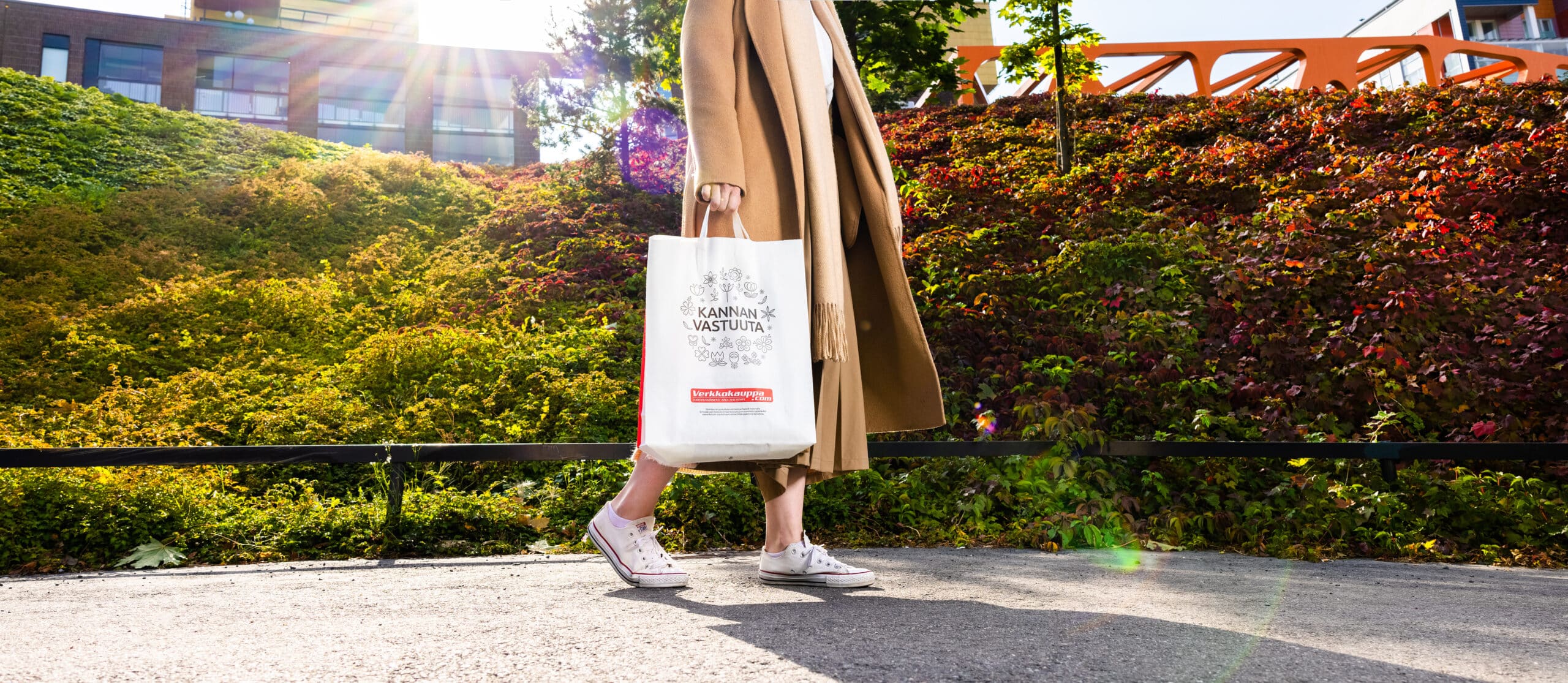 Finland's most popular online retailer Verkkokauppa.com has a very holistic approach to responsibility and one of their focus areas is to reduce the use of plastic in packaging. In early 2021 Verkkokauppa.com introduced Paptic® carrier bags to offer its customers a sustainable option.
"We decided to choose bags made of Paptic® which fit perfectly with our responsibility strategy to favor sustainable materials and material efficiency in packaging. These bags area ideal for us as you reuse them several times and they withstand even heavier consumption", says Johanna Stenbäck, Sustainability Manager, Verkkokauppa.com. "We are committed to reduce the use of plastic bags and try to avoid using plastic and unnecessary over packing also when packing the online shop orders."
The change has inspired spontaneous feedback from the company's employees and customers. "I like the bag made of Paptic®. It is strong and feels nice, and you can always reuse it. The size is nice, something between the small and extra-large bag." One of the store employees noted.
"We are extremely exited that bags made of Paptic® are becoming a staple of the urban environment in Finland. Spend a day in Helsinki and you are guaranteed to see Paptic® bags in action. It's great that Verkkokauppa.com has joined the effort in replacing plastics." Says Valtteri Pussi Marketing coordinator at Paptic.
Verkkokauppa.com empowers its customers to follow their passion by providing a wide product assortment of around 70,000 products. Verkkokauppa.com Oyj serves its retail and corporate customers through its webstore, megastores, 24h kiosk and network of collection points as well as fast deliveries and various services. As Finland's most popular and most visited domestic online retailer, its deliveries cover around 70 percent of the Finnish population within the next day. The Company has four megastores: in Oulu, Pirkkala, Raisio, and Helsinki, where its headquarters is also located. Verkkokauppa.com employs more than 700 people and its shares are listed on the Nasdaq Helsinki stock exchange with the ticker VERK.