Paptic Ltd joined the 4evergreen alliance to promote and further advance circularity of fibre-based packaging materials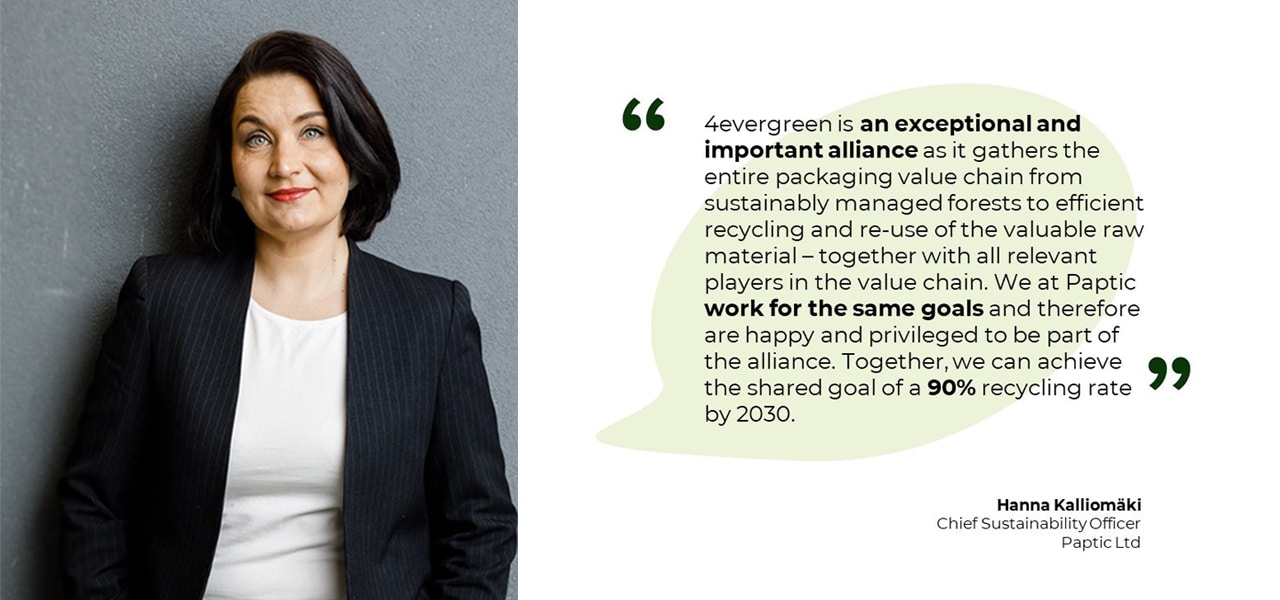 Paptic Ltd has joined the 4evergreen alliance, an initiative of Cepi, the European association representing the paper industry. The unique cross-sector alliance is set to promote the contribution of fibre-based packaging in a circular and sustainable economy that minimizes climate and environmental impact. The aim of the alliance is to raise the overall recycling rate of fibre-based packaging to 90% by 2030.
"4evergreen is an exceptional and important alliance as it gathers the entire packaging value chain, from the sustainably managed forests to efficient recycling and re-use of the valuable raw material – together with all relevant players in the value chain. We at Paptic work for the same goals, and therefore are happy and privileged to be part of the alliance. As our company is sustainable by heart, and our materials are designed to fit the circular economy and existing recycling system, we look forward to being a contributing member of this active, cross-industry alliance with an extensive network of knowledge, "says Hanna Kalliomäki, Chief Sustainability Officer from Paptic. "We believe in collaboration and want to be part of the systemic development of the entire wood-fibre-based value chain. We also believe that the member companies and other organizations together can deliver sustainable packaging innovations and further improve the circularity of fibre-based packaging. Together we can achieve the shared goal of a 90% recycling rate by 2030."
"4evergreen is a cross-industry alliance that engages and connects industry members across the entire fibre-based value chain. We warmly welcome innovation company Paptic with its recyclable solution to our alliance as innovation is at the heart of our operations," says 4evergreen's Chair Hans Wortman.
The initiative brings together almost 100 organizations, and members of the 4evergeen alliance are represented throughout the entire fibre-based packaging value chain from pulp, paper and board manufacturers and recyclers to packaging producers and converters, including brand owners, retailers, and waste management companies. It also comprises non-fibre material suppliers (e.g., adhesives, inks, coatings), technology providers (e.g., machinery, collection, and recycling solutions), and leading research institutes.
For more information, please contact:
Hanna Kalliomäki
Chief Sustainability Officer
Paptic Ltd.
+358 40 143 6432